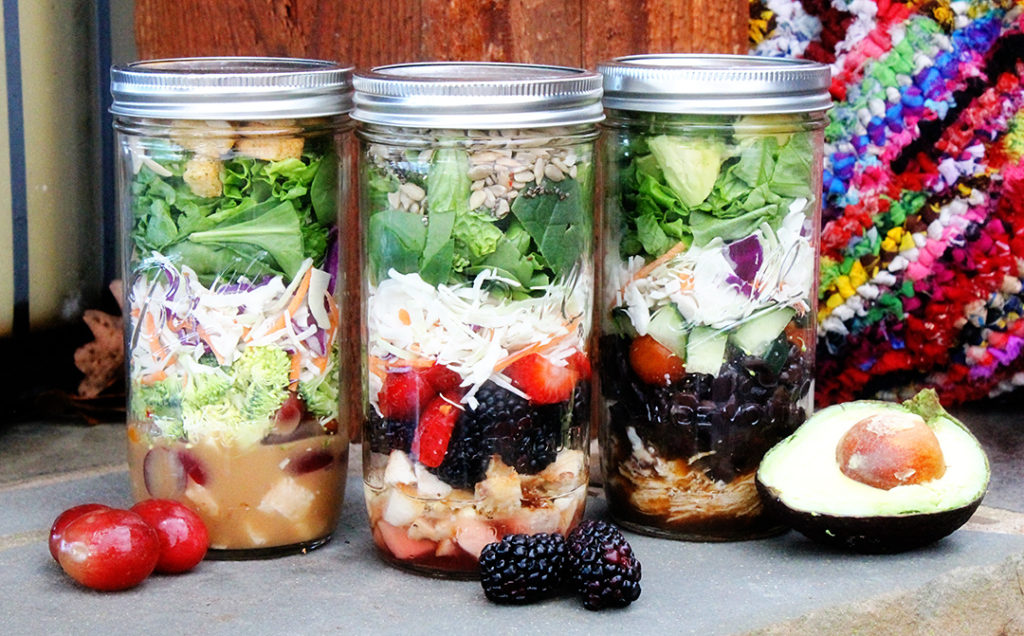 Healthy and delicious Salad in a Jar for springtime meals.
Salads in a Jar are both beautiful and delicious. Spring is the perfect time to make these yummy creations. I begin craving these salads just as the days get warmer and the pastures show the first hint of green grass on the ranch.
Ready to go Salads in Jars…
Keep you on track with healthy eating goals
Pack a nutritious punch
Have tremendous color, texture and taste
Give your day a little bit of summertime freshness
Are easy to prepare
Are economical
Are easily portable
Are ready to go at mealtime
Have limitless possibilities!
I usually make three at a time if only preparing for myself. I find they stay fresh for at least 3 days. The 24oz. tall, wide-mouthed Ball jars work perfectly—you can get them here. The jar can be transported "as is;" but I just found these silicone jackets to protect the glass. Just look at the beautiful color of the fruit and vegetables! Yum!
Begin with the jars…
Here are a few guidelines for success…
I really like this brand of dressing…the Blush Wine (with the strawberry image) is especially good with fruit and grilled chicken. Get it here.
This Salad in a Jar was yesterday's lunch…Heavenly!
3 T. Blush Wine Vinaigrette, 2 oz. leftover grilled chicken, 6 blackberries, 3 sliced strawberries, slaw mix, packed spinach and lettuce (it doesn't look like a lot of green because it is packed in but, trust me, there is a lot), Chia seeds, sunflower seeds. It was very delicious, fresh and filling.
Let me know what you add to your Salad in a Jar! I can't wait to hear about your fresh and delicious creations!
Also, I didn't add any cheese to these jars. But you could add feta, cheddar, or even chunks of a lowfat cheese stick to the protein portion.
Spurring Deliciousness!
Have a great day, Nikki